General Information
Seeing that there is no review for this airsoft modle, I decided that I would give it some justice.
Just a note, I have had this gun for about a year and a half, and it still works great. The skirmish report is from the time that it was almost brand new.
[glow=teal,2,300][shadow=red,left]~Table of Contents~[/shadow][/glow]

1. First Impressions
2. Feel
3. Performance
4. Skirmish Report
5. Durability
6. Overall​
[glow=green,2,300]~First Impression~[/glow]​
Well, a but on the plain side, eh? Black frame, plastic grips with fake wood look. and crappy engraving on the side. This thing is almost all plstic. From the piston sear to the trigger. The metal is the spring guide stopper, the spring itself, the barrel (an ok quality aluminum), the slide return spring, various other springs in the internals of the gun, the screws, and the closed ejection port. Lightly brushed aluminum is my guess. So the black doesn't look too bad. A bit shiney, but what do you expect from a $17.99 gun? The hammer and trigger are both a shiney silver. Probably paint. It scratches off after a while. The "wood grips" look quite fake. The grain looks fine, but the wood color is almost orange. Nasty stuff. If it was darker, then it would look a whole lot better (i painted over my grips, and i'll paint the rest of my gun eventually). The safety is on the left side of the gun and is operated by thumb. Surprisingly ehough, the safety actually works! It's not one of those safetys that is in the mock slide pin. This is the real deal. Strangely enough, it's only on the left side and not on both. The safely snaps into place, and wont accidentally engage or disengage. It comes with one magazine (12+1 cap). They also sell spares!!! Even though these mags have a speedloading feature, it's always good to have more mags. The extra mags come in two packs and are about $7-$10. in the mag, I find that there is enough room to jam one more in (13+1). [glow=red,2,300]
WARNING!!!
[/glow] This will damage some things on the slide that load the bb's. Neither I nor ASR takes responsibility if your gun becomes damaged, malfunctions, or breakes if you attempt this. The sights are basic, non adjustable, iron sights. They work quite will, but only the front blade has a white dot-ish thing on it. The rear notch sight is just blask plastic. I had to slightly drill an indention and fill it with white paint (the dots are off alignment, that's what I get for being impatient).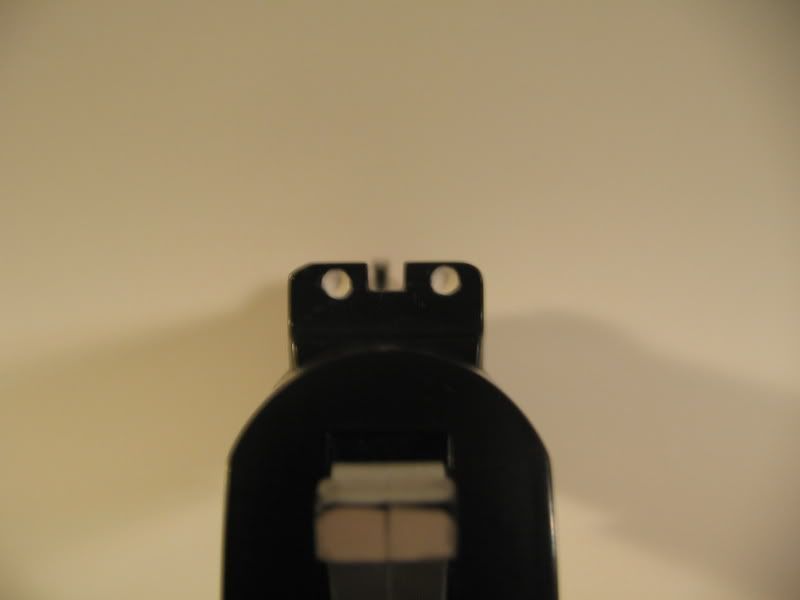 The slide release pin is what keeps the slide on the rest of the gun. All you do is push it out, slide the barrel forward a bit, then lift up and you have just successfully field stripped your 1911! This is great if you get a jam or some other type of malfunction in the slide. Just be careful not to lose it, or you will be hutring to find a new one.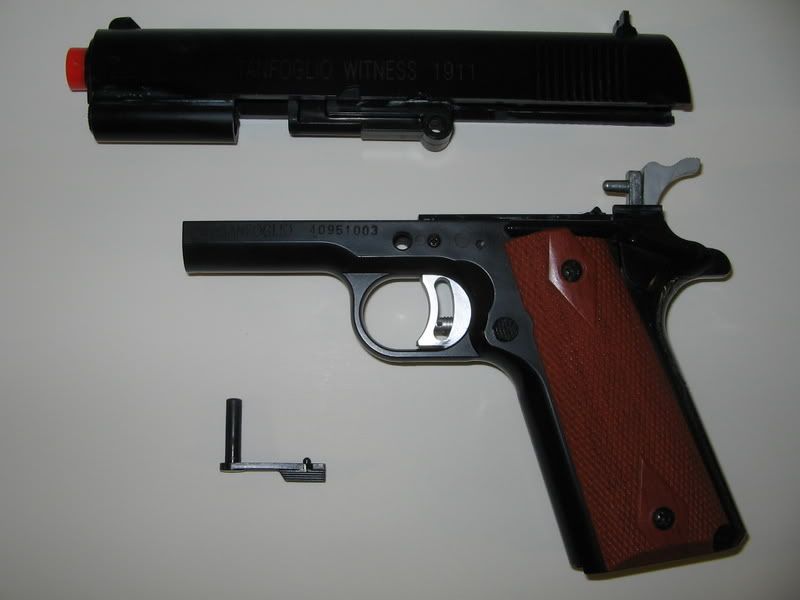 (Gasp!!! Now all of you know my name!!!)
The markings are as followed.
Left Side:
TANFOGLIO WITNESS 1911
FT-TANFOGLIO
40951003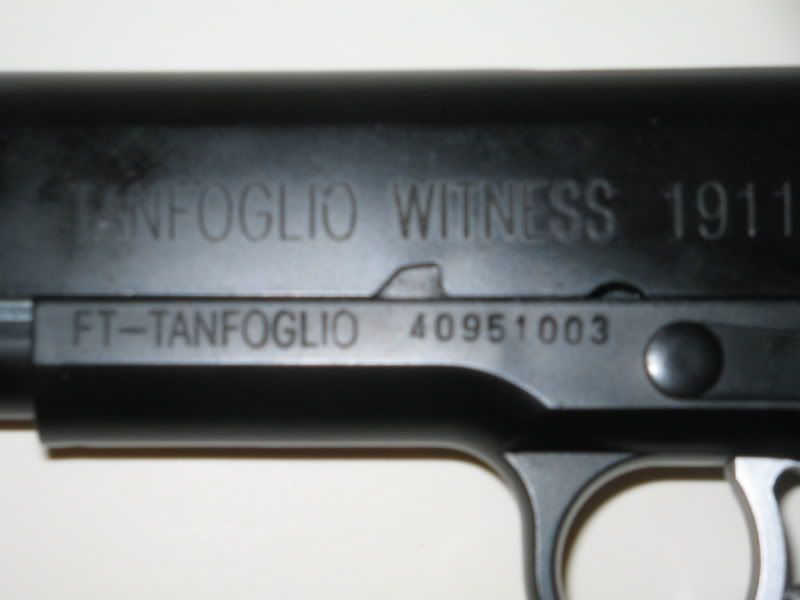 Right Side:
WARNING misuse or unsafe use may causesevere injuries or death sales of this product to minors is not permitted
Cal 45ACP
Spring operated Softair Gin Plastic Pellet CAL (6mm) MADE IN TAIWAN
KWC
MADE IN TAIWAN PAT. P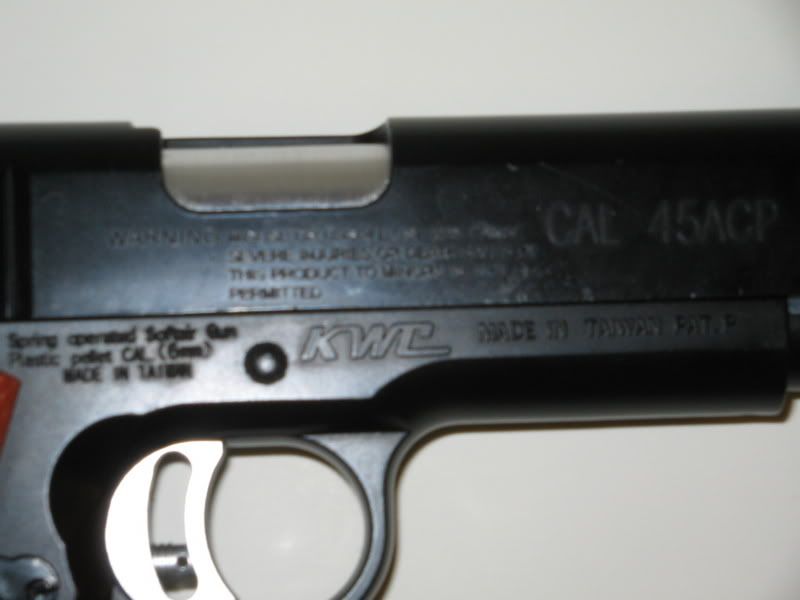 [glow=green,2,300]~Feel~[/glow]​
Wow. Not bad at all! It is 1:1 scale, and is modled after the single stack version (reffering to the was the actual ammo is "stacked in the mag) of the 1911. The grips arent too beefy, but not overly skinny either. The grip safety is non functioning. Don't grip the gun too hard all the time or the mock grip safety will break (more on this later). The safety is easily reachable with just a movement of the thumb, and nothing sticks. Smooth and crisp trigger pull, and the slide just glides on the guide. The checkered grips are great. They give nice grip and arent overly rough or anything like that. The only thing that I could complain about is the mag release button. I can't reach it with my right thumb unless I change my hand position by turning the grip in my hand. I've gotten used to it by now, but it could be closer. You may not have this problem, but I have small hands. Nothing feels out of place, nothing pinches or pokes, it's all good! nuff said.
[glow=green,2,300]~Performance~[/glow]​
Now it gets to the good stuff. This test is actually quite interesting. I did all my shooting inside with as little wind variation as possible to keep the test as controllable. I did my tests at 10, 20, and 30 ft using Crossman bb's that you can find at Wal-Mart. I fired an entire mag (12 rounds) at a new target at each distance in the prone position. Seeing as these bb's arent the best, you will most likely have tighter groupings with higher grade bb's.
10 ft, 2 1/2 in. Grouping
20 ft, 3 1/4 in. Grouping
30 ft, 4 1/2 in. Grouping
What's interesting here is that the 1911 actually over-hops .20g bb's! wow. There must be some serious hop on this. That fact renders it a bit awkward at anything closer than 30 ft. Another interesting fact is that if you neglect the bottom 5 shots at the 30 ft. target, that is the target with the tightest grouping at a 1 1/4 inch grouping! Strange eh? I guess the hop-up just needed time to even out a bit. That being said, the hop-up works very well at the distance of 30 ft. and greater. I would say that max effective range would be about 30-80 or 90 ft, and max at just about 100 ft!!! Accuracy will be horrendous, but if you really wanted to, you could really reach out and touch somebody! What a steal for $17.99!!! The Distance is with my own gun at skirmishes. Yes this really goes about 80-90 ft predictably. Using the Poor Man's Chrono, it can not puncture one side of a soda can (well, 90 ft. at $17.99 is still not bad!), so I will trust ShortyUSA and say that it shoots at 240 fps with .20's and 320 fps with .12's. That is still respectable for a spring pistol at below $20!
[glow=green,2,300]~Skirmish Report~[/glow]​
Wow again. I must say that I am impressed with this. This is quite a bargin for the price! After I ran out of bb's in my HFC MP5, my friend charged me. All I had was my trusty sidearm. I quckly put down my MP5 mag and drew my 1911. POP... POP... (lol) Two shots. one to the head, one to the torso (I'm pretty sure that the headshot was a fluke). he was about 40 ft away and moving, so that tells me that wow, this gun kicks butt!!! I continued throught the day as the #1 player, and my 1911 got me out of countless tight spots.
Still today, I carry my 1911 into battle with my UTG M87 Shotgun about 1 1/2 years later, but i use it far less because of the highcap mag. Let me tell you though, This thing owns in pistol wars. Those are so fun! Pistol wars really utilize tactics and skill!
[glow=green,2,300]~Durability~[/glow]​
After 1 1/2 years of abuse (wars, skirmishes, being dropped, etc.), my Tanfoglio Witness 1911 is still in fighting shape! The only thing is that the rear sight kinda got hit on the left side (no biggy, just looks kinda smashed, didn't change or move the sights), and the mock grip safety broke. I really have no idea how it happened. All I remember is that one day at home when I pick it up, it feels different, so I look at it and there is a crack!!! Quite the easy fix though! All I needed was some glue thaty can bond to ABS plastic, and I was good to go! Seesh, 1 1/2 years and still going strong. This thing is like a tank!
I also had to glue all around the side of the mock grip safety so that it would never move again and cause any more trouble.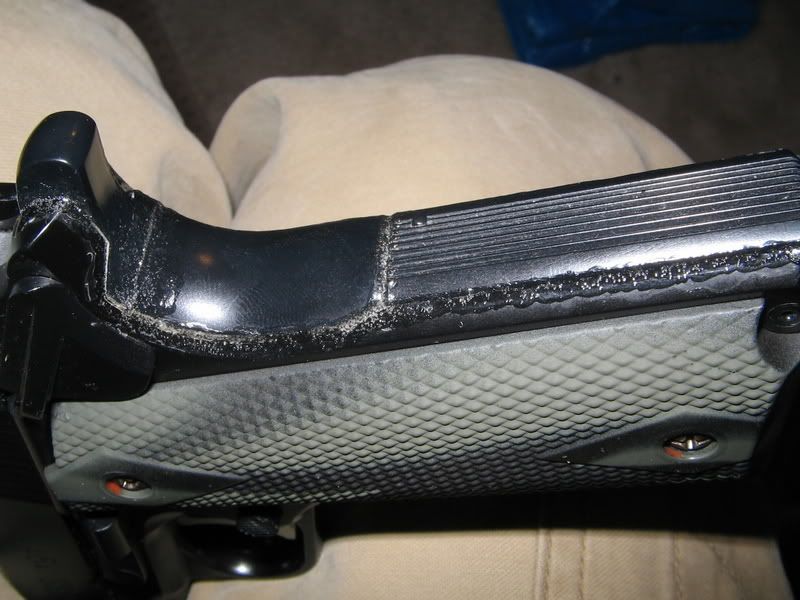 As you can also see, I custom painted the grips, and I'll probably paint the rest of the gun as well.
[glow=maroon,2,300]~Overall~[/glow]​
Well, $17.99 (w/o tax), 90 ft range, 1 1/4 inch grouping at 30 ft, and 1 1/2 years of use and still going strong. This is probably the best $20 I've ever spent on any airsoft gun! I would highly recommend this to any noob or springer user! An overall great gun with above average results!!!
1. First Impressions [7/10]
2. Feel [8/10]
3. Performance [9/10]
4. Skirmish Report [9/10]
5. Durability [10/10]
6. Overall [8.6/10]
If you have any further questions about this product, please PM or e-mail me (I check my e-mail more often). I will be more than happy to answer your questions in full
! Just please be patient. If I don't get back to you right away, It's probably because of school.
Enjoy!
P.S. If you think that there is something that I forgot to cover in any of my reviews, please tell me and I will fix the problem ASAP!!!
P.S. If you want to see the full review, go here. http://www.airsoftretreat.com/reviews/showproduct.php?product=120&cat=34
Gallery