First project, I'm checking out a Tokyo Marui AUG for a friend. He dropped off the box months ago and whatever is in the box is what I have.
This is my first time working on an AUG (almost my first time on anything non M4 or AK) but I have a fair bit of gearbox experience and Google at my disposal.
It wasn't in terrible shape, but had a broken foregrip, missing butt plate, missing gearbox reinforcement plate and tiny retention plate for the takedown pin. Here is a diagram I found and I circled the missing parts:
I also tracked down sources for these parts, all except the retention plate.
The foregrip and butt plate: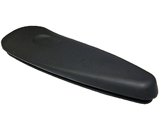 Shop Replacement / Reinforcement Rubber Stock Butt Plate for AUG Series Airsoft AEG - Black Compatibility: Tokyo Marui, Classic Army, JG, Echo1, Matrix, BE and other compatible AUG series Airsoft AEG. Material: High Grade Rubber. Manufacture: Matrix. OEM: JG *Made out of high quality...
www.evike.com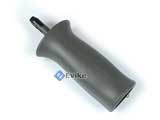 Shop Designed for Tokyo Marui, Matrix, Classic Army, JG, Echo1, ASG, Army, APS and other compatible AUG series Airsoft AEG. Color: OD Green Manufacture: Classic Army / JG / APS / Army... , Accessories & Parts, External Parts, Shop by Other Gun Models, AUG Parts, AUG Upper Receiver / Parts
www.evike.com
And the gearbox reinforcement plate:
THE LARGEST AIRSOFT PARTS SHOP ON EARTH!
locknloadairsoft.com
The gun is currently in functioning order, but you have to be carefull that the takedown pin doesn't pop out and let the barrel assembly slide out. A quick chrono and range/constancy test gives me 295 FPS and 15 RPS. This was with a crappy 8.4v NiMH battery, I could probably get it up to 18 or 20 with a 9.6 or 7.4.
I had to use tracers (it was like 8:30) and my Acetech unit which gave the AUG a bit of an interesting look.
If I ever own an AUG I'd get a smaller tracer for sure.
I'm in contact with the owner about whether he wants the "aesthetic" parts I linked earlier, and will report back when I hear.